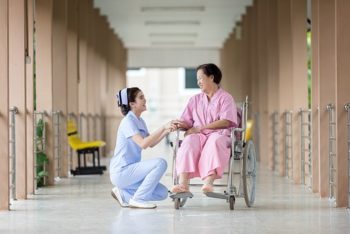 Many people are moving to
Monterey
 and Carmel with retirement living in mind. As retirees, issues of health, and aging often come to mind. There are frequently some difficult conversations to be conducted with one's caretakers and doctors involving the advancing years. For their part, most physicians will also experience difficulty and shy away from talking with their patients who are seriously ill about what matters to them in their final days. According to a study conducted by Stanford University School of Medicine researchers, this is especially true if their ethnicity differs from that of their patients. However difficult such conversations may be, they are important for planning medical care during serious illness.
When retirees are contemplating their Pebble Beach or Carmel retirement living, it's important to consider all aspects of the sunset years. Stanford clinical associate professor of medicine VJ Periyakoil, MD, the lead author of the study, reported that doctor-patient end-of-life conversations help clarify what's most important for patients' waning days of life. Periyakoil asked what were their needs, wants, hopes and fears. Would they want to die on a machine at the hospital? Would they prefer to die at home? Having a conversation would impart that knowledge. Moreover, doctors needed help from their patients in order to have such conversations.
The study surveyed 1040 fourth-year medical residents on whether they had encountered any obstacles in effectively conducting end-of-life conversations with patients and their families. Almost all, 99.99 percent of those surveyed, reported barriers, with 86 percent rating the obstacles as very challenging.
The researchers categorized these barriers and identified the top six. These categories were 1) issues about language and medical interpretation; 2) spiritual beliefs of the patient and/or family about death and dying; 3) ignorance of the doctor about the patient's cultural beliefs, values and practices; 4) cultural differences on the part of the patient and/or family in making decisions and handling the truth; 5) limited health literacy on the part of the patient and/or family; and 6) mistrust of the health-care system and doctors themselves by the patient and/or family.
These issues may especially impact those families in the Monterey Peninsula and Carmel where retirement living includes an older adult who speaks a different language. Doctor-patient conversational barriers are more likely to affect ethnic minority patients who speak a different language than the doctor. The greatest barriers that physicians face in these conversations is communicating with patients with whom the doctor shares no common language and, therefore, spoken approximations can lead to misunderstandings. Because equivalent medical words or terminology may not exist, medical jargon has been difficult to translate. Doctors in the study said that while medical interpreters can help, they are not always immediately available and involving such intermediaries is time-consuming and can interfere with the doctor-patient relationship.
Periyakoil argues that physicians should all be trained to conduct end-of-life conversations in a culturally effective and respectful manner. To help address the physicians' lack of knowledge about patients from different faiths and cultures, the researchers recommend training throughout the doctors' education and career. Overcoming communication barriers is especially important as the population of the United States becomes more diverse. In a state as diverse as California, even Carmel retirement living can present a few of the same ethnic and cultural communication challenges as a university research hospital.
What would be a good way to introduce the topic? Periyakoil would suggest starting by addressing the need to talk about what it is that matters most to you as a patient. Then, she continued, make your desires clear and explain what you value. Is every medical intervention desirable regardless of the pain and affect on the quality of your life? Or is avoiding pain a main priority? Periyakoil herself plans to say, "I want you to do everything you can to help me live well."
When difficult conversations are taken care of, residents then can truly enjoy their time for Pebble Beach and Carmel retirement living.